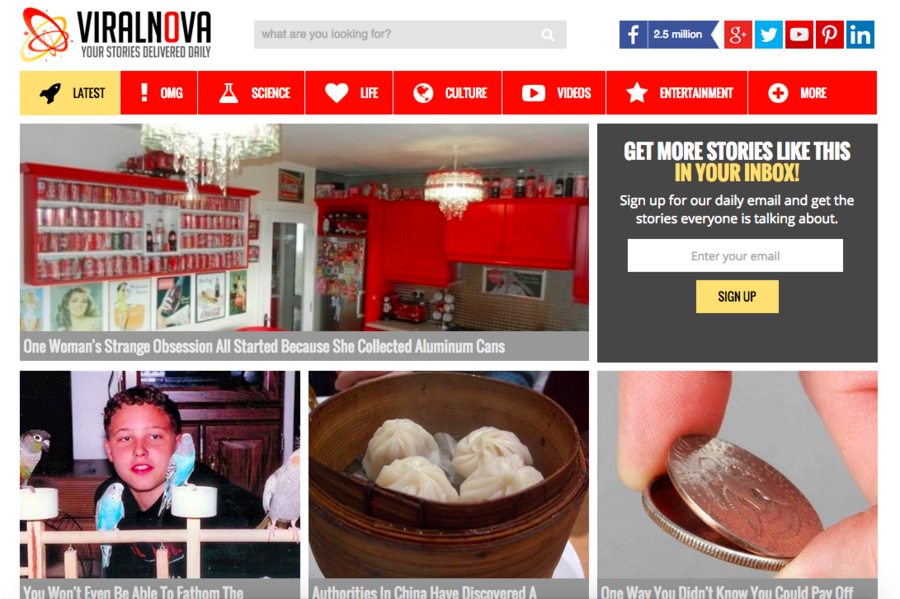 The viral media site moved its headquarters to New York and is now offering advertisers sponsored content.
ViralNova started as a kind of one-man BuzzFeed out of its founder Scott DeLong's home in North Canton, Ohio. Now the viral content site is looking to make a go of it as a bonafide New York media company.
DeLong made headlines in late 2013 when The Atlantic and other media-watchers noticed ViralNova's skyrocketing traffic. Within a few months of launching, the site was bringing in 66 million unique visitors, drawn in by headlines like "This 12 Year Old Girl Just Died. The Letter Her Parents Discovered Afterwards Is Heart Shattering", aggregated by DeLong and two part-time freelancers.
At first it looked like DeLong planned to cash out, but he's since changed his mind, He HIRED
 roughly two-dozen employees and brought on CEO Sean Beckner, a serial entrepreneur who recently sold his Leawood, Kansas-based company Front Flip. Beckner is now the controlling shareholder of ViralNova, although DeLong still owns a stake in the company and serves as its chief strategy officer.
It was Beckner who first reached out to DeLong, intrigued by ViralNova's eye-popping growth and curious about the content space.
"When we teamed up, we quickly realized, we have a ton of growth ahead of us," Beckner told the New York Business Journal.
Today, the site is pulling in 100 million monthly unique visitors. Insert joke about clickbait here, but ViralNova is in earnest about its business ambitions. The company now occupies a 3,000 square-foot Midtown office space, just two blocks north of the Empire State Building. The site, which started on WordPress, has built its own custom content management system. It's also expanding into verticals like DIY, science and, obviously, animals.
It's also launching a sponsored content offering. So far, Viral Nova has relied on traditional display advertising. It's still been a money-maker for the site. Beckner says the company pulled in more than $10 million in revenue last year. He expects to more than double that figure this year.
And unlike viral competitors BuzzFeed and Upworthy, ViralNova hasn't raised venture capital. It's completely self-funded.
"We've never wanted to just go HIRE
 up and do a ton of initiatives at the same time," Beckner said. "We haven't needed the capital. If somebody put in a big check, it would just sit there."
As for the move, the Big Apple was the obvious choice for ViralNova's big media ambitions: "New York was the hands-down place for a media company to be headquartered."
#geturz