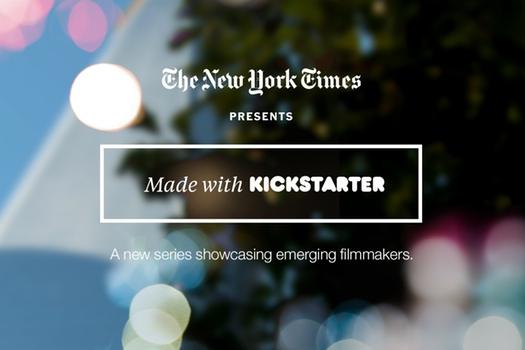 The New York Times today unveiled a content partnership with Kickstarter to feature the… 
more
The New York Times today took a sharp turn into the future of content creation when it unveiled "Made with Kickstarter" a new documentary series published on their site.
"These stories span a wide range of film-making talent thriving on Kickstarter," the Times wrote in a statement. "And they've been hand-picked by The New York Times to enrich and inform their audience."
Over the next six weeks, six Kickstarter-backed documentaries ranging between 10-to-30 minutes long, will be published on NYTimes.com and the newly created "Made With Kickstarter" channel in Times Video.
Two years ago, Kickstarter-backed "Inocent," about a 15-year-old aspiring actress who happened to be homeless, became the first-ever crowdfunded film to 
take home an Oscar
. That year alone, 
three Kickstarter-backed
 films were nominated.
"The Times will be hosting great short-form documentaries, all made with Kickstarter, on its Times Video page, with a new film taking a turn in the spotlight each week," the Greenpoint, New York-based company wrote on its blog today. "Films The Times has hand-picked to inform, entertain, and broaden the worlds of its readership."
In the hunt for quality, affordable content, the "Made with Kickstarter" channel has all the makings of a WINNING
 deal: the Times gets content with a built-in audience, Kickstarter gets regular publicity in the Times, and the documentary makers, and everyone involved in the film, jumps over night from relative obscurity to having their films nationally viewed.
BY, Michael del Castillo
#GETURZ